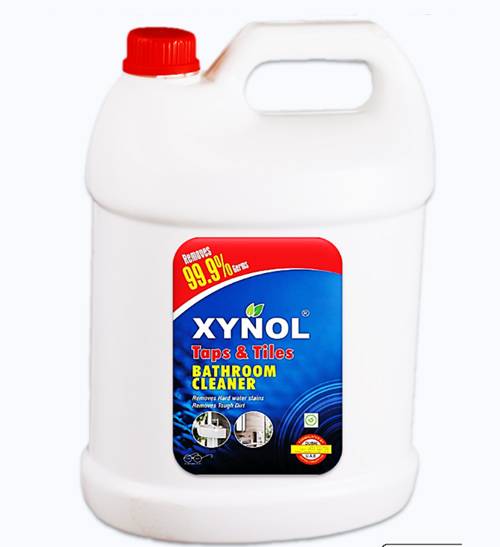 Available variants : 500 ml, 5 Ltr.
Xynol ® Taps & Tiles
Disinfecting Bathroom Cleaner
Removes Hard water stains
Removes Tough Dirt
Cleaning is more than just a shiny surface.
 Disinfecting surface and basin cleaner spray that cleans bathroom surfaces, taps, tiles and leaves unbeatable shine. Powerful stain removal formula. Removes up to 99.9% germs.
 Removes accumulated dirt and tough stains.Cuts through hard water stains and soap scum.
 Cleans bathroom surfaces to a brilliant shine with Xynol ® Taps & TilesDisinfectingBathroom Cleaner'spowerful action tackles,even the toughest cleaning challenges – removing soap scum, lime scale, and everyday dirt and grime, with little or no scrubbing.
 It leaves behind a clean, fresh fragrance. Xynol ® Taps & Tilescan be used on a variety of household surfaces, including shower doors, tubs, glazed ceramic tiles, vanity tops, sinks, etc.
Recommended Uses: Taps, Tiles, Tubs& Toilets of residential &commercial spaces in Bathrooms & kitchens & Mega Kitchens. Just spray on the Taps &Tiles OrapplyXynol ® Taps & Tilessolution to a clean linen. Leave it there for 5-10 minutes. Now buff off the soiled & stained surfaces with a clean cloth. Clean Bathroom surfaces with a moistened cloth, buff out excess water or vapors, shine these surfaces with Xynol ® Taps & TilesDisinfectingBathroom Cleaneronce every month year.
Xynol ® Taps & Tilesaims to bring out the Bathroom's beauty in an effortless & economical way.