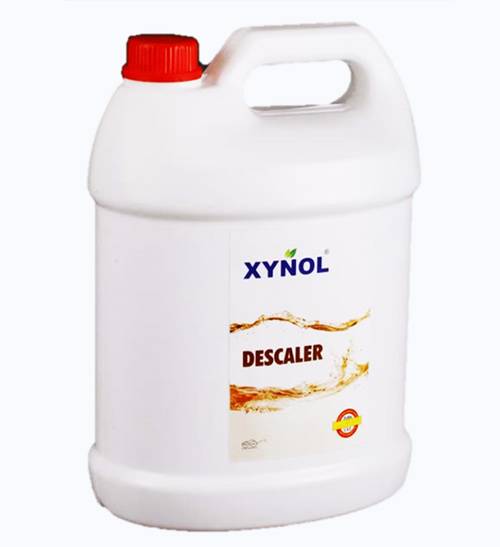 Available variants : 5 Ltr.
XYNOL® Descaler is exclusively formulated to dissolve limescale deposits from all kind of metal surfaces or Granites, Marbles etc. It easily removes strong to mild rust compared with traditional descalers. It is absolutely safe to  descale the metal surfaces, that remain soaked or are in direct contact with hot water.It is the most ideal solution for cleaning of metal pipes, tanks or Delicate Floors Tiles. It improves the lifetime and performance of the metal surfaces.
Product Features:
XYNOL® is a surface friendly de-scaler.
Its special ingredients conveniently convert the rust or the stain or the dirt into a suspension.
It's gentle ingredients protect the polish & the glare of the surface while removing the Rust from the same.  
How to use:
Gently apply 30-40 ml. of  XYNOL® Descaler on the stained surface area smoothly.
Leave it for 30 odd minutes for better results.
Use undiluted for age-old stains.
For routine stains recommended dose is Dilution with water 1:1. Little rinsing shall be helpful to take away the stain forever.